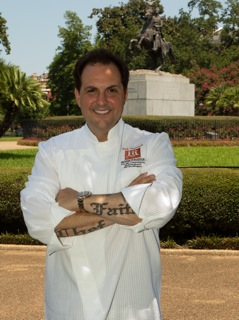 Rick's Biography
For eleven years, Rick Tramonto was executive chef and founding partner at Chicago's world-renowned four-star fine-dining restaurant Tru, in partnership with Rich Melman, of Lettuce Entertain You Enterprises. Tramonto was also culinary director of Tramonto's Steak & Seafood, and RT Sushi Bar, in the Westin Hotel in Wheeling, IL.
In 2010, Tramonto announced his partnership with Louisiana native Chef John Folse and the formation of a new restaurant company, Home on the Range. Tramonto and Folse opened Restaurant R'evolution, in New Orleans' renowned French Quarter in the Royal Sonesta Hotel, in 2012. 
Tramonto is an accomplished author with eight titles to his credit: His memoir, Scars of a Chef, was published in March 2011. His cookbooks include: Steak with Friends: At Home with Rick Tramonto; Osteria; Fantastico!; Tru; Amuse-Bouche; Butter Sugar Flour Eggs (nominated for the 2000 James Beard Award for the Best Cookbook in the Baking and Desserts category); American Brasserie (finalist for the Julia Child Cookbook Awards).
Because of the respect he has earned in the culinary world, Tramonto has won numerous awards, including: James Beard Award –Best Chef Midwest; James Beard Award –Best Service (Tru); Wine Spectator Grand Award (Tru); Top 10 Best Chef in Food & Wine Magazine (Trio); Four Star reviews in Chicago Tribune; Four Star reviews in Chicago Magazine; Best New Restaurant in New Orleans Magazine (Restaurant R'evolution).
The journey…………
A Rochester, New York native, Tramonto grew up in a traditional blue-collar Italian family. In 1977, because of a family crisis and his struggles in school, Tramonto dropped out of high school and entered the workforce to help support his family. His first full-time job was with Wendy's Old Fashioned Hamburgers in 1977. He left after two years to become line cook at the Scotch 'N Sirloin, which led to his first real culinary experience at the Strathallen Hotel. Under the tutelage of Chef Greg Broman, Tramonto learned the techniques of classic French cuisine.
Young and ambitious, Tramonto moved to New York City in the early 1980s, where he worked at the legendary Tavern on the Green. From there he joined Chef Alfred Portale at Gotham Bar & Grill and was part of the brigade awarded three stars by The New York Times. He also worked under Chef Gerard Pangaud at the opening of Aurora. In the late 1980s, Tramonto was brought to Chicago by Richard Melman to work at his popular restaurants Avanzare and Scoozi! Rick then went on to open and work at several other Lettuce Entertain You Enterprises establishments.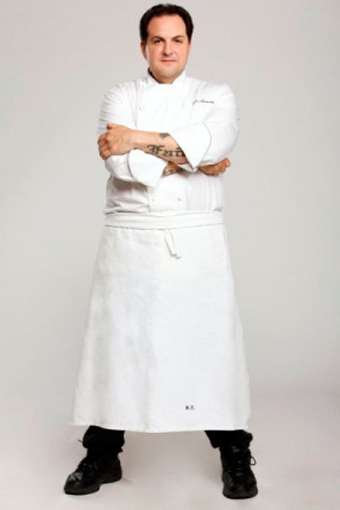 In 1989 Tramonto joined the team at Charlie Trotters. After Trotters, Tramonto received a call from Bob Payton, founder of the restaurant company, My Kinda Town, in London, Tramonto excepted the challenge to transform the kitchen and cuisine at Bob's award-winning country-house hotel Stapleford Park in Leicestershire, England. Tramonto then teamed up with Sir Rocco Forte, to do the reopening of the famous Criterion Brasserie in Picadilly Circus, London. After that, Tramonto went on to apprentice with some of the world's greatest 3 Star Michelin chefs, including Pierre Gagnaire, Anton Mosimann, Michel Guerard, Raymond Blanc, and Alain Chapel.
When Tramonto returned to Chicago in the early 1990s, he was ready to partner in the launch of a successful fine-dining restaurant. He and his culinary partner pastry chef Gale Gand opened the nationally acclaimed Trio in Evanston, Illinois. Tramonto and Gand then went on to launch the popular restaurant Brasserie T. During that time they also reunited with restaurateur Richard Melman to launch the award-winning Chicago landmark Tru in 1999